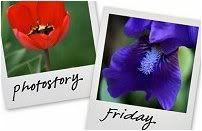 Hosted by Cecily and MamaGeek
About a year and a half ago, my husband and son packed up their bags and went on vacation without me. I wanted to go desperately, but I had to work and did not have the vacation time available. I stayed home instead with our loyal German Shepherd, and some of the loneliest moments I have ever spent in our home. Upon their return, I poured over their photos, enjoying their vacation with them the only way I could. The trip was full of firsts for my son.
First Plane Ride.
First Time Meeting Cousins From Sweden.
First Time In a Geodesic Dome House


And my personal favorite, First Bovine Staring Contest.


As a mother of course I only want the best for my first born son. I find I occasionally stumble through my job as a parent, making mistakes and struggling with how much freedom and leniency to give him. I always love him immeasurably and I have watched him change from the squeezable little boy he was in these pictures to the more knobby version of him now. Every new experience he has in his life shapes who he is. I might have been left behind for this collection of firsts, but I get to experience the little boy they have shaped him to be. Full of humor, wit, sweetness, and bovine skills.